Storytelling started for me when I first began writing short films. Having struggled to maintain a consistent voice for the duration of a novel, I found that the ten minute tale matched my attention span perfectly.
I see the role of a storyteller as two-fold - firstly to curate and nurture the great wealth of old stories that make up our oral history. Secondly, to keep the spirit of creation alive by finding the myths that talk to a new generation and creating the stories that will inspire those future tellers of tales.
I live in Dunbar, East Lothian but I spend as much time as I can in the Highlands, the Islands and on the West Coast. I frequently run workshops and sessions in the area - everything from inglenook sessions to story-tents in the woods.
Contact me
if you would like to discuss a booking.
---
---

"It's like everyone tells a story about themselves inside their own head. Always. All the time. That story makes you what you are. We build ourselves out of that story."
―
Patrick Rothfuss
,
The Name of the Wind
---
---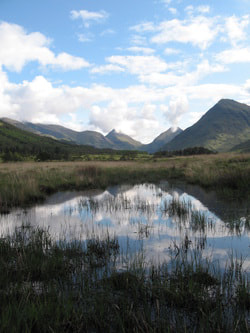 The White Stag of Glen Etive
​
This story was inspired by the tales of a White Stag in the Glen - first mentioned to me by
Kate Dix
on a story-telling workshop at the marvellous
Cae Mabon
in North Wales.
White Stags have often been used as portents or as inspiration for a variety of different peoples - the Hungarians used it and so did the English monarchy. The archaic term was White Hart and the theme crops up time and again.
Many English Inns use the image and name. In Edinburgh, there's a
White Hart Inn
on the Grassmarket. Frequented by Robert Burns and William Wordsworth, it was convenient spot if you fancied a pint after a good hanging (the Last Drop often being four-deep at the bar). However, if Messrs Burke & Hare offer a nightcap at their lodging house, you'd be best to politely refuse.
---
---



​"No, no! The adventures first, explanations take such a dreadful time."
―
Lewis Carroll
,
Alice's Adventures in Wonderland & Through the Looking-Glass
---
---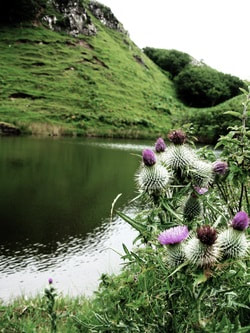 The Fairy Herd of Balnacnoc
​
This place is truly uncanny. I have walked here many times now but I shall never forget my first experience. An unearthly quiet settled upon us as we walked into the Glen. Where once there'd been sheep and birds; only silence. The land shapes are so like a mountain range in miniature - it was thrilling and unsettling at the same time. When I arrived at the heart of the Glen itself, it seemed only natural that I should be accosted by a friend from 300 miles away, tour-driving a collection of Korean tourists round the Highlands and blarneying them fit to bust, all the way.
---